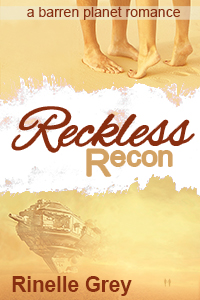 Over the next week or two, I'm going to be sharing some background information about Reckless Recon, such as information about the characters, places and research behind the book.
Of course, the best place to start is with Kerit, who is the character we all know from the first two books.
Name: Kerit Bekkert
Age: 26
Height/Weight: tall, thin and wiry
Body type: wiry and lean
Scent: outdoorsy, beachy? (Can someone smell beachy?)
Texture (i.e. of hands, skin, etc.): firm and smooth
Clothing style/frequently worn clothes: tidy casual. At the beach, he'd wear board shorts and a rash vest. Around home, probably casual shorts and a t-shirt, going out, jeans and a collard shirt, not tucked in. (Need to check this with Reckless Rebellion)
Eyes: blue
Hair: blond, longish around his face, often hangs in his eyes
Characteristic tags: laid back and easy-going. Keeps to himself, and doesn't get involved in other people's problems. Or he didn't, until his brother and sister-in-law were involved.
Race/Ethnic group: Born on Urslat to a high-middle class family
Years of schooling: finished high school
Any special occupational training: spent many years and hours surfing! And doing a lot of other outdoorsy activities such as rock climbing and hiking.
Occupation: surfer, paying the bills through sponsorship
 Skills, Abilities, and Talents: surfing, swimming, rock-climbing
Admirable personality traits (strengths): Positive, kind, thoughtful
Negative personality traits (weaknesses): self-conscious, doesn't think much of himself
Things that make angry: Kerit is hard to anger. People putting him down, or thinking less of him, annoy him, but it has to be pretty blatant for him to become angry
Method of handling anger: walking away, talking it out, suppressing and ignoring it
Things that embarrass: just as he's hard to anger, Kerit is hard to embarrass. If someone teases him, he's likely to laugh along with the joke (although possibly be embarrassed inside?) Mostly, he dislikes being compared to others.
Method of handling embarrassment: joking, usually at his own expense
Fears: sharks!
Method of handling fear: avoidance, and a little bit of superstition
Philosophy of Life: have fun, do the things that inspire you in life, and stay true to yourself
Favourite Foods: Anything! Kerit likes pretty much all foods
Favourite Books: Kerit isn't a big reader. His favourite books are probably surfing inspired
Favourite Place: Out on the waves, or at the beach
Item(s) special to character: dolphin necklace that he passed on to Tyris, and his surfboard
Person/friend close to character: his brother, Tyris, and now Marlee as well
Description of home, home life, and economic status: Kerit lives alone, in an apartment. His income comes from sponsorship of his surfing, and isn't huge. He drives an average car. He comes from a high achieving family, so is the odd one out.
Most painful experiences in character's past (to prove why they act the way they do): Kerit has had a pretty easy life. The only painful experiences he's had are his parents not supporting his surfing, and his serious girlfriend wanting him to get a 'proper job'. Or… Maybe not knowing where Marlee had gone, and if she was ok, made him feel like he let his brother down.
Character's goals (What they want)(Their biggest dream): Kerit is drifting at the beginning of the story. He's left his surfing behind to follow Tyris and Marlee, and isn't sure what he's going to do with his life now, besides hope that Semala has a good ocean to surf. (Maybe one without sharks?)
Character's motivation (Why they want the above goal): Kerit wants to be accepted, and to live a fun and happy life. Besides finding a good surfing ocean, and maybe building a beachside shack, he doesn't have many goals
Character's conflict (What is keeping them from their goal): the people on Semala, who don't want anyone else on their planet! And the alien, keeping chasing him, and making his life more difficult.
Summarize character's Fatal Flaw (the main problem to work through): Kerit constantly compares himself to his brother, and feels lacking. He is plagued by doubts, and avoids making decisions, preferring to defer to someone else
Is there anything else you'd like to know about Kerit? Feel free to ask any questions in the comments.